Model: #PO-024
Dimensions
Edit
Height: Width [shoulder to shoulder]: Wingspan:
Propulsion/Maneuvering
Propulsion/Maneuvering
Edit
Top
Front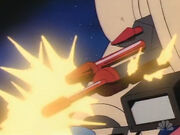 Right Arm
Flamethrower Hand Missile (useful as welding tool or weapon)
Left Arm
Blow-Apart Armored Canopy (for rapid pilot escape)
Accessory Equipment
Edit
Back / Bottom
Field Repair and Refueling Station with Crane
Tow Hook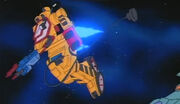 Armament
Chain Lightning Blast (Algup = Chain lightning, a beam weapon that can intentionally ricochet or jump from target to target, as well as bend around obstacles)

This E-frame wasn't primarily designed for combat and was therefore less maneuverable and sturdy than others. However, for an expert technician and pilot like Lt. Maggie Weston this frame was an optimal choice, allowing her to fix her allies' damaged E-frames in combat. Weston's Algernon Upgrade was a Chain Lightning Cannon firing a beam of electrical energy that ricocheted from target to target and even bent around obstacles. Many fans have noted that the configuration and coloration of this frame is reminiscent of the Power Loader from Aliens.
Maggie Weston's Field Repair E-Frame #PO-024 Gallery
Edit
Eve Hanley's Field Repair E-Frame #PO-024 Gallery
Edit
Ad blocker interference detected!
Wikia is a free-to-use site that makes money from advertising. We have a modified experience for viewers using ad blockers

Wikia is not accessible if you've made further modifications. Remove the custom ad blocker rule(s) and the page will load as expected.